This tutorial post is an easy beginner's guide for anyone looking to buy Bitcoin or other cryptocurrency with credit or debit cards. One of the easiest and best methods is through Changelly.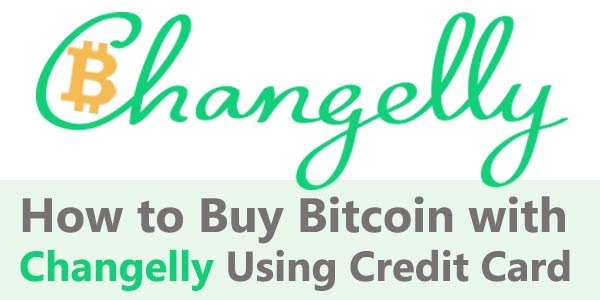 Changelly is quickly becoming one of the best cryptocurrency exchanges out there; with this rising star you can safely buy bitcoins by using your credit card. This is a fairly new feature on the site and we're happy to walk you through it. The whole process is very simple, but here's the step by step to get you started right away.
---
Step 1: 
Create an account
Creating an account on Changelly to start doing bitcoin exchanges is just one click away. All you need to do to sign up is enter your e-mail address. Then, you'll receive a confirmation e-mail that will include your new password. Now you're free to login and navigate the site.
---
Step 2: 
Go to home page
Once you've logged in, go to Changelly's home page and select your currency and type in the quantity on the left, and you'll get your crypto coin equivalent on the left; now click on that "exchange" button!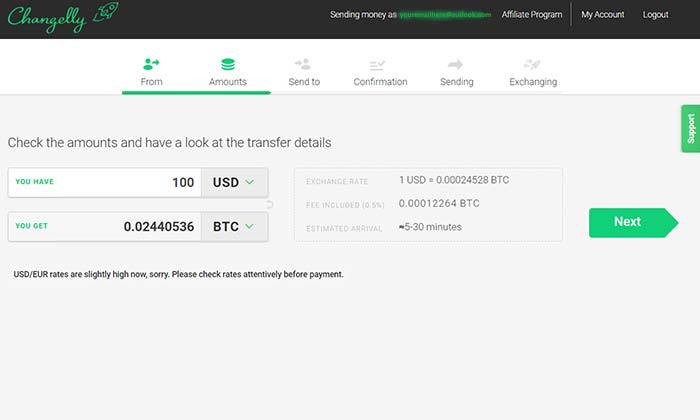 Make sure to check that the rate and the amount of bitcoins you're going to get for your money are correct, then click on "next".
---
Step 3: 
BTC Address

The next thing you need to do is specify your BTC address (or altcoin address if buying altcoins). Pretty simple, huh? Now click on "next" and check all of the payment details on the screen before processing your bitcoin/altcoin buy. Once you do this, you automatically agree to Changelly's terms.
---
Step 4: 
Pay with your credit or debit card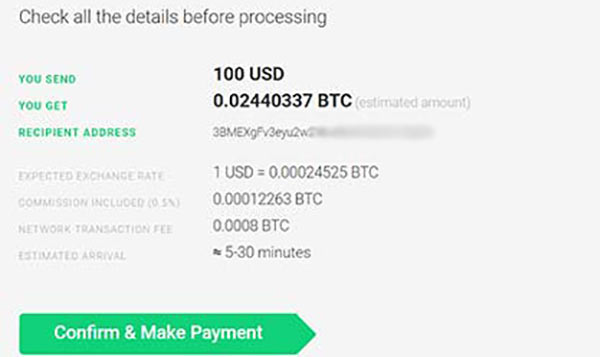 Now, we're all familiar with this bit. It's time to enter your credit card data and click on "pay". There's really nothing more to it.
---
Step 5: 
Phone confirmation
Once you've done that, you'll have to provide a valid phone number attached to your credit card. Wait a few seconds for the phone call that will inform you of the digital code you must enter to finalize your cryptocurrency exchange.
---
Step 6: 
Data confirmation
Now it's time to go to your online bank app and find the bank statement with a three-digit code to specify. If you can't find it, there's a voice record option for you to say "Indacoin verification"; you'll have to send a picture of you and your passport to finish the confirmation.
Once you've done this, whether you got the code or had to send your data, you'll have to wait 5 to 30 minutes until your transaction is complete. Don't worry, you'll get your money and your receipt faster than you can say "Countercurrency exchange using Changelly is easy as pie!"
Keep in mind that credit card support is a new feature introduced only on January, so if you have any doubts or question, or if you want to make some suggestions, feel free to contact the Changelly team at: support@changelly.com.
Your opinion is as valued as your USD to BTC exchange experience!